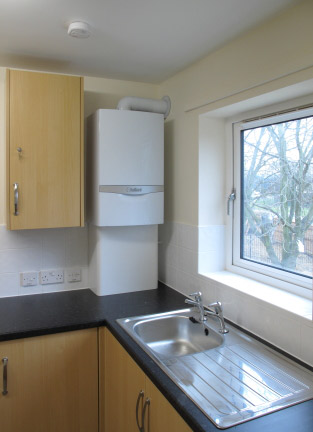 The perfect boiler pipework cover up for Axiom Housing Association
Easy to fit pre-formed and pre-finished boiler casings from Encasement have been chosen to conceal unattractive boiler pipework in a development of 30 shared ownership apartments by Axiom Housing Association in Peterborough.
The Anson House development at Cottesmore Close provides a choice of one and two bedroom apartments and each includes an energy efficient boiler located in the kitchen area. Encasement's boiler casings were chosen to not only provide an aesthetic and durable solution to the installation, but also enable a consistent high quality finish to be achieved in every apartment.
Manufactured from pre-formed plywood to match the boilers' exact dimensions of 430mm wide by 200mm deep and 495mm overall height, this enabled the contractor to fit them in a matter of minutes in each apartment, rather than wasting time and money by using site made alternatives.
As the casings are free standing and held in place with a mastic sealant, they are easy to remove and re-fit without damaging them, giving easy access for routine maintenance and safety inspections. Also, each boiler casing is pre-finished in white Formica® laminate making them resistant to damage and easy to wipe clean.
Encasement's MD, Martin Taylor explained: "The Anson House development is a perfect example of how we can save time and money on site for the heating contractor, installer and developer, while also providing a high quality and consistent finish in every apartment. Our boiler pipework casings are installed in countless projects across the UK and are proving to be the 'casing of choice' for many contractors as they're easy to fit and highly cost effective."
You can see more images from the Axiom housing association project in our boiler pipe work casing gallery. You can also view our boiler pipe work casing range in more detail.