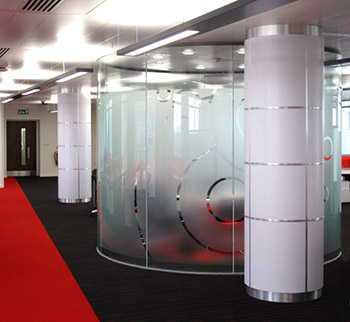 Stylish column casings from Encasement for Salford's Media City
Stylish column casings from Encasement's Circa range are being used to conceal structural columns and provide an integrated contemporary finish within the Pie Factory building at the innovative Media City development in Salford.
Located at Salford Quays, Media City is one of Europe's most dynamic mixed use developments combining workspace, residential and retail, as well as one some of the world's most advanced HD broadcast studios and multi-media and production facilities, which are used extensively by the BBC and ITV.
To meet the demands for a contemporary design and high quality finish that integrates with the building's décor, Encasement was chosen by the interior designers to supply and install a series of unique circular column casings, which are finished in durable polar white Formica laminate.
Each 750mm diameter column casing stands 3000mm high and is made up from 16 separate 'quartered' segments, which are secured to the structural column and connected by brushed stainless steel laminate feature joints. Matching brushed stainless steel header and skirting collars are also installed, which add to the stylish finish.
Encasement's Managing Director, Martin Taylor, explained: "Media City is an outstanding development and although we have supplied and installed casing solutions to a diverse range of prestigious projects in the past, the meticulous finish and attention to detail demanded for these columns is particularly satisfying when they're viewed as an integral part of the finished Pie Factory offices."
You can view our Circa plywood casings range in more detail or alternatively explore our full range of column casing products.