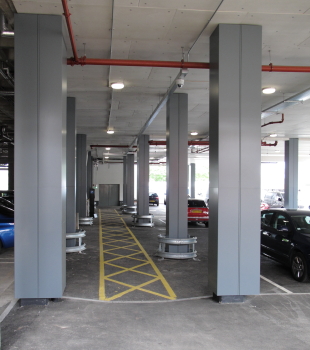 Facelift for Northwick Park Hospital
An extensive expansion and upgrade programme at Northwick Park Hospital in Harrow, Middlesex to provide improved facilities for patients also includes new car parking facilities, which is using 28 Forma aluminium column casings to conceal structural steelwork.
Operated by London North West Healthcare NHS Trust, patients at Northwick Park are benefitting from wide ranging improvements including new operating theatres and vascular surgery imaging together with a new £21million A&E; department, which replaces the existing facilities at Central Middlesex Hospital.
As part of the overall upgrading and expansion plans, the hospital's car park has also undergone a 'facelift', with better car parking and greater capacity along with improved lighting and access. An integral aspect of the improvements has been to conceal the car park's structural columns with Forma column casings, which were both supplied and installed by Encasement.
The square and rectangular Forma column casings measure from 500mm x 500mm up to 500mm x 820mm and stand 4600mm high. Even though aluminium is weather resistant, each casing has a grey BS18B25 PPC coating to provide additional protection while creating a more aesthetic finish.