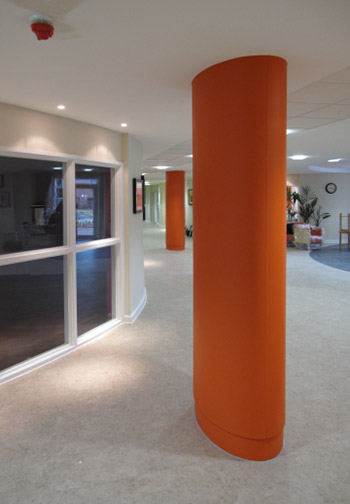 Elliptical Polyma GRP Casings chosen for Boston Special Care Housing
Elliptical Polyma GRP column casings from Encasement have been chosen for the interior of a new a £6.3 million extra care housing complex, in Boston, Lincolnshire to conceal internal structural column and rainwater harvesting pipe work.
Operated by Boston Mayflower housing association and constructed by Lovell Partnerships, the new three storey, 40-bedroom development replaces an existing care facility on the same site and has been created for people with specialist care needs.
Encasement's Polyma GRP column casings are manufactured fro moulded glass reinforced polymer to provide a lightweight and tough solution that can be produced to meet virtually any design or shape requirements. Polyma casings are also being highly resistant to scuffs and damage in busy environments, such as care homes hospitals and health centres as well as other high traffic areas.
The elliptical design was chosen to provide the 'best fit' with a minimum footprint, while enabling the structural columns and other services to be concealed effectively and each 2.7 metre high casing measures 800mm x 500mm. Following the installation, the casings have been given an orange coloured finish, which not only brightens the interior, but also provides contrast for people with impaired sight.
Encasement's Managing Director, Martin Taylor, explained: "As Polyma casings are produced from moulds, it makes them highly versatile as they can be manufactured to meet almost any specification or shape requirement for a particular application or project. Broadfield House is an ideal example of how Polyma's key attributes are providing a range of benefits."
In addition to the rainwater harvesting system, part of which is concealed by Encasement's column casings, Broadfield House incorporates a range of number of sustainable technologies and design features including a solar heated domestic hot water supply and energy-efficient ground source heat pumps.