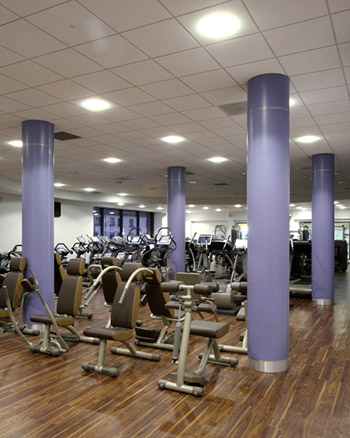 Circa column casings are fit for purpose at new Staffordshire health & fitness centre
A new £10million health and fitness centre in Newcastle-under-Lyme features Encasement's Circa pre-formed plywood column casings to ensure structural columns in the building's fitness suite, climbing wall and public areas blend seamlessly with the building's modern interior.
Designed by leading sports architects the William Saunders Partnership, the new Jubilee 2 centre is a joint venture between Newcastle Borough Council, NHS North Staffordshire and Sport England and provides a range of facilities including a 25-metre swimming pool, gym and climbing wall together with a dance studio and ground floor cafe.
Encasement's column casings are installed not only in the first-floor fitness suite and foyer but also adjacent to the climbing wall, where Circa casings are used to create the impression that the ground floor tiled columns extend from the lobby the full height of the building's glazed atrium.
In the centre's state of the art gym and fitness suite, seven 500mm diameter casings, finished in a durable lavender coloured Formica Olympia K2156 laminate, not only conceal structural columns but also integrate with the centres interior décor and colour scheme. Standing 3.0 metres high, the casings also incorporate brushed aluminium skirting and feature joints to further enhance the aesthetics.
Circa 350mm diameter casings are also installed in the first-floor corridor and foyer area adjacent to the lift lobby. Finished in a light turquoise Formica Maui F5347 laminate, these 3.7 metres high casings are also designed to blend with the interior colour scheme and the fabric used on the centre's furniture.
The Jubilee 2 project, which has been applauded for its use of low environmental impact materials and construction methods, was designed to achieve at least a BREEAM 'very good' rating to help reduce carbon emission and save energy.
Encasement's Managing Director, Martin Taylor, said: "This is an extremely impressive new facility for the people of Newcastle and incorporates a range of innovative features including the location of the climbing wall in the main reception area as a key point of interest. It's a project we've been proud to have been involved with and it's great to see that our casing solutions have helped to create the modern look and feel that is present throughout the building."
You can see more images from the new Staffordshire health & fitness centre Circa column casing installation in our Column Casing gallery. You can also view our Circa column casings range in more detail or alternatively explore our full range of column casing products.